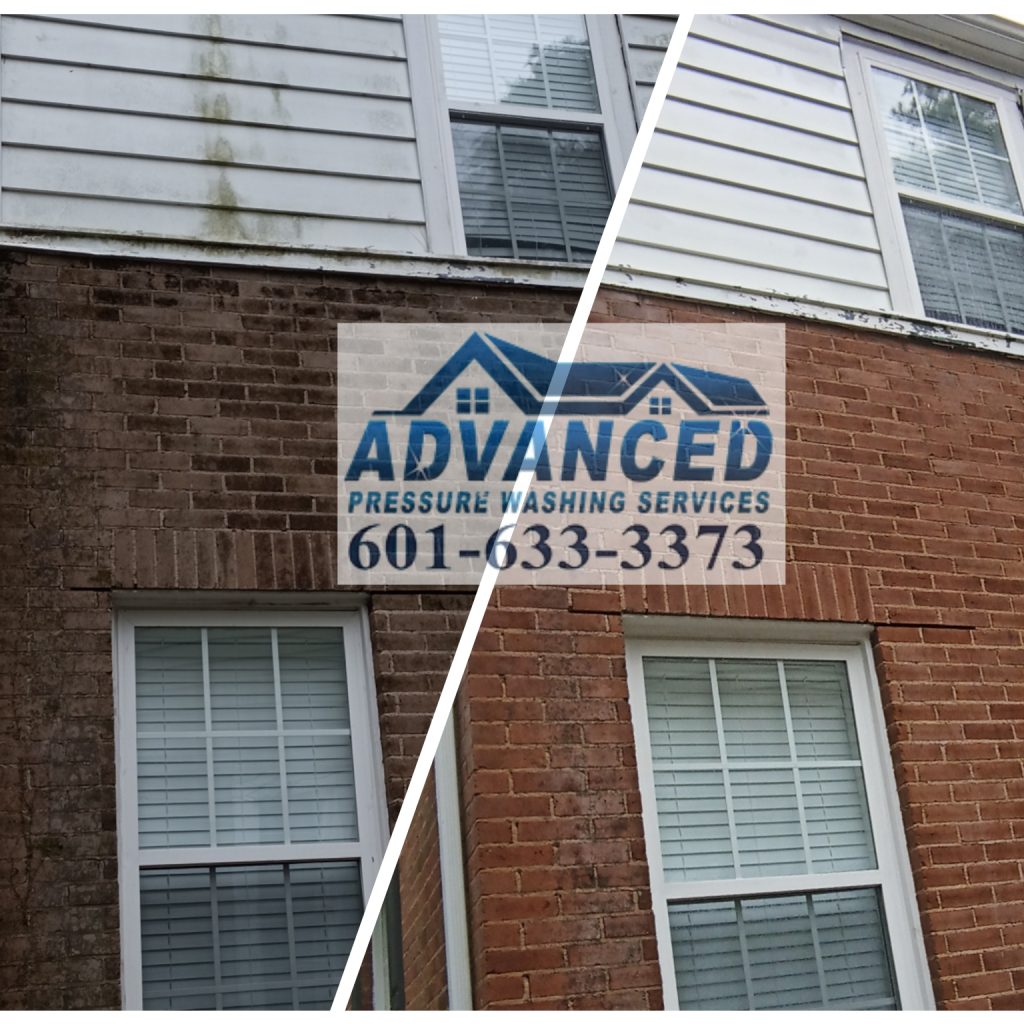 House soft washing services in Jackson MS.
Recently customer reached out and requested an estimate for a house soft washing service in Jackson MS. Since we offer pressure washing Jackson MS we knew we could help her right away. Their house was built back in 50's and appeared as nobody ever tried to clean its exterior until now. Lots of green lichen and algae were growing on the walls. A pleasant shade from a huge pine tree in the front yard provided a perfect environment for microorganisms to grow. Some poison ivy started climbing the walls. The customer was concerned about the black streaks on gutters as well. No worries. We are here to help.
What is soft washing?
Soft washing is an exterior cleaning process that utilizes low pressure and cleaning power of commercial detergents. Often, soft washing is used to deliver chemicals onto the surface and rinse them off. The chemicals do most of the cleaning. Folks built this house back in old times when factories did not seal bricks the way bricks are sealed today. This, combined with shade and moist Mississippi climate, provided the lichen and mildew a perfect media to thrive! Soft washing is often used to soft wash roof.
Why is soft washing so popular?
There are times when one must use high pressure. Then there are times when high pressure could damage the surface. Soft washing has gained popularity due to its safe nature. No high water pressure is ever used to blast pollution off the surface. It prevents water from getting trapped under siding and prevents penetration of chemicals under doors and windows. The days when handymen show up with the pressure washer in the trunk of their car and get the mold blasted off are long gone. Nowadays, consumers are well-informed, thanks to all mighty Google. They do their homework, and they ask all the right questions when they call. 
Power washing house in Jackson MS? Don't be in a hurry!
If you are getting ready to soft wash your house or maybe thinking about pressure washing your driveway, give us a call first. We love chatting with clients, and we always give out FREE advice.
If, however, you do not feel comfortable doing the pressure washing job yourself, we are ready to help!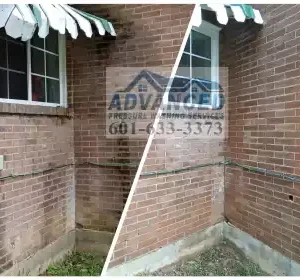 In nearly two decades, we learned what it takes to do the job right. Proper detergents, proper equipment, and proper techniques are what sets us apart from 'do it all' handyman. Plus, we are fully insured. If you live in Brandon MS, Flowood MS or Madison MS, you are familiar with the mold issue caused by proximity to Ross R Barnett Reservoir. The soft washing process is ideal for removing exterior mold and mildew. Call us today!
You can reach us 601-633-3373 or send us a message via our website.
pressure washing brandon ms
We won't be happy until you are happy! When you call us we will listen to your concerns, show up on time and do the best pressure washing job there is! We will address all your concerns and we will not leave until you are absolutely delighter with the result.