Power washing in Jackson MS – how we do it.
Power Washing Hinds, Ranking Madison Counties Since 2001
Often we get calls from residents of Hinds county requesting various power washing services. Hinds County is governed via a five-member board of supervisors, each elected from single-member districts. The county is led by a county administrator, who is appointed. According to Wikipedia, as of the 2010 census, the population was 245,285, making it the most populous county in Mississippi.
Frequently the call starts with the caller asking if we serve the Jackson area, followed by a short description of issues and their desired outcome. It is commonly the older 1940's brick house with neglected siding. Frequently owner lived in the house for several decades and never even knew that houses could be power washed. So homeowner hires us to power wash home in Jackson MS.
Homeowners often ask to cover flowers and shrubs, which we already do as a precautionary measure.
We try to schedule a quote visit the same day – weather permitting.
Then the usual – we show up on time, as promised. We assess the situation and name the service price. Our pricing is based on the size of the property, the degree of cleaning, and the estimated amount of time we will spend on the customer's project.
Often, customers tell us to proceed with the schedule and get them on the plan as soon as possible. During the estimation process, we take pictures for two reasons: 1- to document any damage that could not be readily noticeable and 2-for our before and after collages.
What happens on the day of service.
We schedule our services to commence at 7, if possible. As promised, we show up on time or a few minutes early. We are never late except due to traffic or mechanical breakdowns. We pride ourselves on being punctual. Professionalism and punctuality are paramount, especially in the service industry. More than we care to count, our customers were complaining about a previous guy who said he would come and never showed up, but I digress.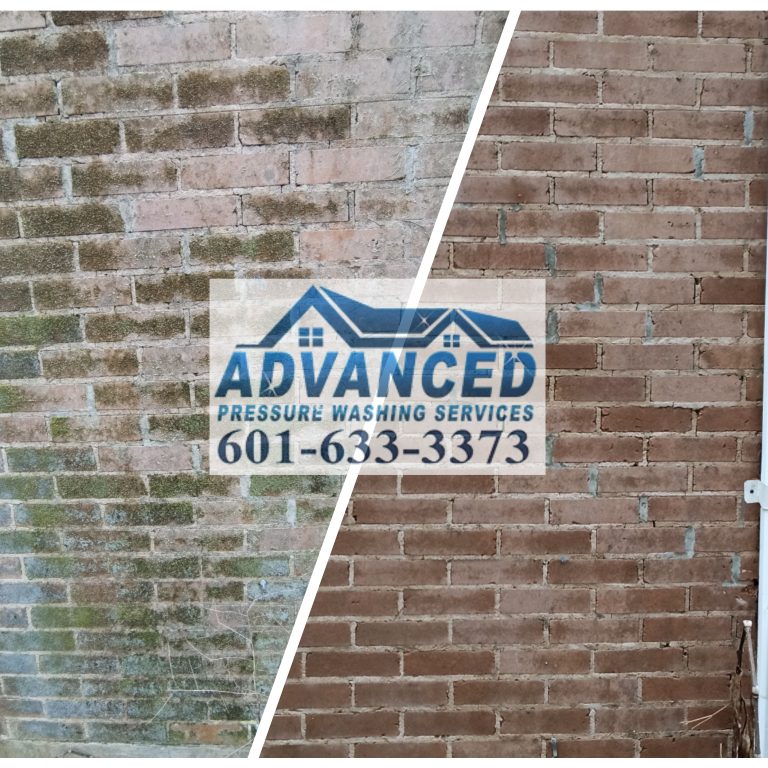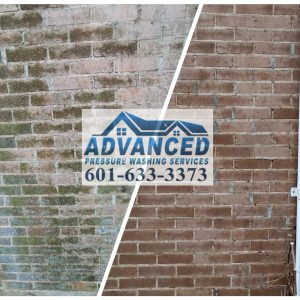 First, we start with watering all the plants – this is done to protect vegetation from cleaning detergents. We cover sensitive flowers and shrubs with a drop cloth. We water the surrounding grass extensively.
Then we apply detergents. Sometimes it takes more than one application. Due to the nature of the slow working chemicals, we need to give detergents time to dwell. It is also partly because we use an as low concentration of detergents as possible. We are not in a hurry, remember?
Thirdly we rinse the detergents, mold, and mildew off. We use low pressure when delicate surfaces such as wooden and vinyl siding are present. Fragile plastics can get damaged by excessive water pressure. We rinse everything and then go everything again with more rinsing. At that point, we allow all the water to run down, and we inspect everything one more time. Spots that we missed in the first two rounds of soaping are getting treated again. The results are consistently excellent. The transformation is vast, and homeowners are always delighted with the outcome.
Lastly, we collect a payment, pack our equipment and leave to the next client!
Conclusion.
It is not very difficult to power wash house or any other structure or surface. Essentially it all boils down to the same mundane steps – pre-water, apply detergents, and wash off. The devil, however, is in the detail.
If one uses too much pressure, it is possible to damage the surface. It is possible to drive water where it is not supposed to go. If too strong of chemicals are used, it is possible to kill the grass, kill vegetation and discolor the surface.
It takes lots of practice and care to do pressure washing services right.
We have been power washing Jackson MS for a long time. We learned what it takes. We possess commercial tools and detergents. Our equipment is fully adjustable, and we know what pressure to use in what situations. The same goes for chemicals.
Power washing Jackson MS or, as some say, pressure washing Jackson MS is what we do. We are punctual, we are professional, and we are affordable. We are NOT "do it all" handymen that do a little bit of everything.
Power washing services are our specialty, and we are arguably good at it!
House pressure washing and concrete cleaning is not the only services we provide. We also offer roof cleaning in Jackson MS and nearby towns.
Schedule your no-obligation free quote, and be prepared to be amazed! You can reach us 601-633-3373 or send us a message via our website.