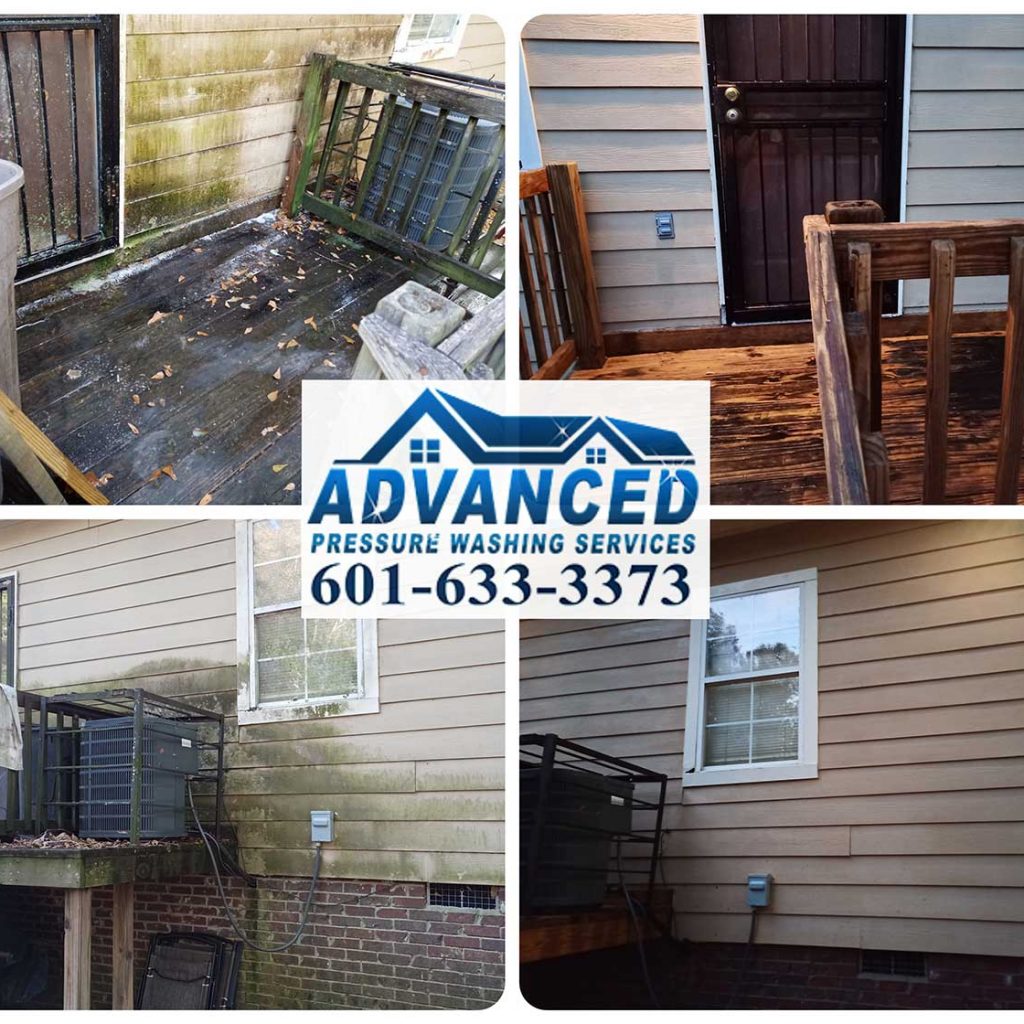 Pressure washing services in Jackson MS
A little history of the city.
The Jackson – official name is the City of Jackson – was founded in 1821. It was named after a famous general Andrew Jackson – a general who became famous after the battle of New Orleans. Jackson is a capital of Mississippi.
About our pressure washing services
Advanced Pressure Washing Services has been serving Jackson area residents since the early 2000's. We are professional, punctual, thorough, and very affordable.
Our mission is to boost property curb appeal while saving homeowners money on long-term cleaning maintenance by providing affordable exterior cleaning services. 
What it takes to pressure wash a neglected home.
Recently a gentleman from Jackson called and asked for help with his house pressure washing project. It was a two-story house built in the early 70's. The homeowner indicated that he had lived in that house since the early 80's and never had it power washed. We were happy to help.
First, we apply our proprietary detergent to an area affected by a heavy build-up of lichen. Asbestos tile is an excellent porous substrate for vegetation. Mold loves porous surfaces with many surface areas to hang on to. The Mississippi's shaded, moist environment is ideal for mold and lichen.
Secondly, after giving it enough dwell time, we removed the bulk of the initial mold. It became apparent that more than one treatment would be necessary. No problem there! We are never in a hurry and stay on the job as long as it takes to deliver nothing less than perfection.
Lastly, the second treatment of infested area took care of the remaining pollution and house because clean.
The back porch soft washing.
The next task was cleaning a porch/patio area. It was an elevated platform made of softwood, probably yellow pine, which is very popular.
The porch had some unknown paint peeling off in some areas, and it was holding on quite well in other areas. Upon close inspection, the wood had three or four different color layers, one on top of the other.
First of all, when facing these unknown layers, we utilize Sodium Hydroxide-based strippers to soften the paint and stains to the point where we can safely remove them without damaging the underlying wood.
After proper dwell time and then extra 20 minutes, the bulk of the paint can be removed using moderate pressure. We discovered that something in the past charred wood in places which came as a total surprise to a homeowner. The gentleman was so happy to see the actual wood that he didn't seem to mind some char. He thought those burn marks gave the porch a character.
The front porch soft washing.
The last part of this house power washing process was the front porch. There was the usual mold, apart from a ton of cobwebs and dirt daubers. None of those things is a match for the commercial detergent.
Our detergent contains mold inhibitors that slow down the reappearance of mold. We developed this "secret sauce" over the years, and it is a best-kept trade secret 🙂
Conclusion.
House pressure washing, or as some call it, house power washing, is the most cost-effective way to clean your house. The mold, if left untreated, can wreak havoc on the property. The situation with mold can become very expensive if left untreated. If the mold gets under the siding and infiltrates the house structure, the price of house pressure washing will be negligible compared to the mold removal process. Power washing your house can tremendously boost the curb appeal of your home. If you would like to get a free, no-pressure estimate on thorough exterior cleaning of your property, give us a call today. You can reach us 601-633-3373 or send us a message via our website.
Top-rated pressure washing company serving Central Mississippi
We won't be happy until you are happy! When you call us we will listen to your concerns, show up on time and do the best pressure washing job there is! We will address all your concerns and we will not leave until you are absolutely delighted with the result.