Are you looking for house pressure washing Brandon MS? 
If the answer is "yes" then please read on…
Advanced Pressure Washing Services is a professional exterior cleaning contractor, insured, experienced and affordable! One of our service areas is in Brandon, MS.
Pressure washing Brandon MS and surrounding areas such as Flowood MS, Madison MS, Pearl MS and others.
Brandon MS is a large modern city in Rankin County, Mississippi. With a population of 21705 (as of the 2010 census), it has plenty of projects for a premium pressure washing company such as Advanced Pressure Washing Services. With the housing market booming, real estate agents agree that there is no easier way to increase property value than having it professionally pressure washed by an experienced contractor. We pressure washed many properties in Brandon MS. Houses in Easthaven Estates, Deer Crossing, Northshore Landing, Countryside Estates, and other subdivisions could benefit from house pressure washing Brandon MS.
Why do you need pressure washing in Brandon MS?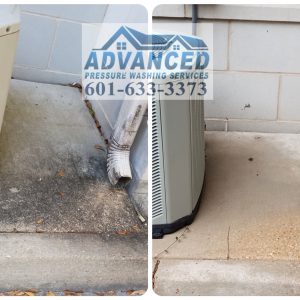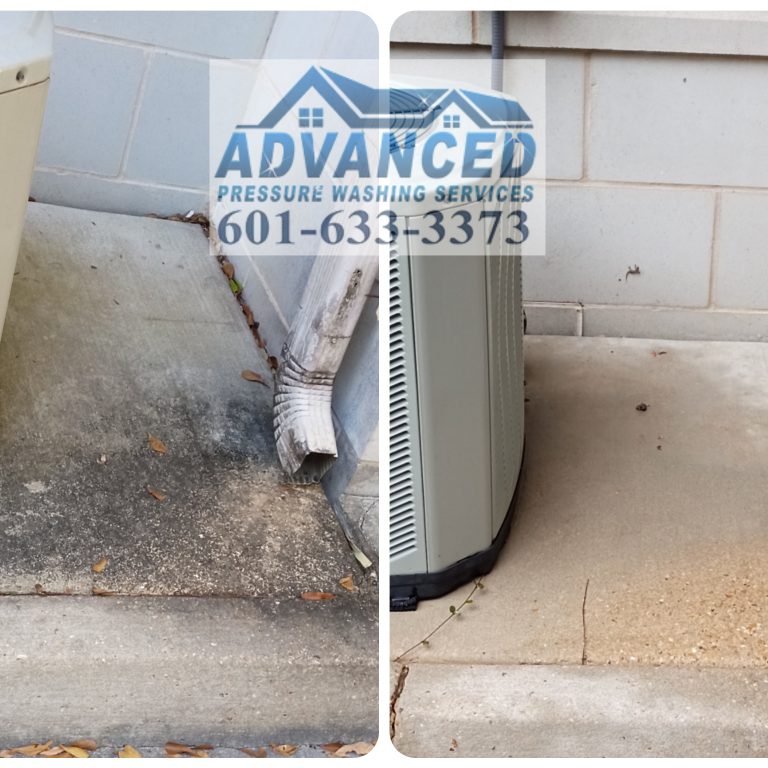 In areas with relative proximity to Ross R Barnett Reservoir, mold, mildew and lichen are often grow out of control. Because brick walls with porous surfaces create a perfect medium for uncontrollable growth, mold and mildew are a big problem in this area. Asphalt shingle roofs have algae stains going rampant – spreading from one roof to another end up infesting the entire subdivisions. Driveways are black and green instead of white, cement color.
If you place your house in Brandon, MS, for sale on the market, take a closer look at your property exterior. Pay close attention to your brick walls, gutters, stucco, shingle roof, and last but not least, your driveway. If any of your house exteriors is less than perfectly clean, you could be leaving the money on the table. Besides, a thoroughly cleaned property sends a good signal to potential buyers. It tells the new owner that previous owners took good care of the outside and the inside. This signal will undoubtedly put the new owner mind at ease.
Pressure Washing Services we offer in Brandon MS.
We offer several power washing services: house soft washing, driveway pressure washing, pool sidewalks pressure washing, vinyl siding gentle soft washing, asphalt shingle roof cleaning and wood restoration services.
Driveway pressure washing service Brandon MS is what we call it. Your driveway is the first thing that potential buyers or visitors will see. If you installed your driveway more than five years ago, chances are it got mildew and lichen stains on it. If left unattended, it will grow a slippery slime which will cause slip and fall hazards. We can clean the concrete driveway in Brandon MS, to look new again. We will use safe detergents, and you are guaranteed to be amazed by the outcome.
House soft washing service Brandon MS is called soft because of the low, safe water pressure we are using to clean. Over the last several years, this service has become popular among homeowners. With the advancement of the Internet, consumers have become more educated about cleaning services. They ask all the right questions, and they demand the best. Delivering only the best service is our primary mission. Our advanced detergents do the cleaning, and we only use low-pressure water to rinse. 
Other Cleaning Services We Offer.
Gutter cleaning service is one of our popular services. Often neglected, gutters play a significant role in diverting the water away from your house. Unfortunately, most homeowners forget about the gutters until they start leaking or have trees growing out of them. At this point is when we get calls. No problem! We will show up on time, clean your gutters inside and out, flush them and brighten the outside surfaces. Most gutters will regain their original color. As with everything, there are always exclusions from the rule, but we promise to do everything possible to make gutters look their best! We guarantee to deliver the best gutter cleaning service in Brandon, MS.
Wood restoration service is also known as fence pressure washing or deck cleaning. This service address the harsh effects of sun UV rays on wood fibers. You probably seen countless fences in your neighborhoods that look dirty and flat out neglected?  Average homeowners are unaware that we can clean faded wood fences to look new again. If cleaning service is followed by staining and sealing the wood of your fence could last at least ten more years! If your wood fence looks dirty and neglected, don't be in a hurry to replace it. Wood cleaning services cost just a fraction of the cost of replacement. The transformation is always excellent.
Conclusion.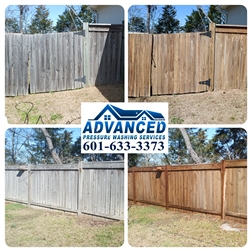 The process of house power washing, although seemingly simple, requires experience. Do customers often wonder which soap to use? How much pressure to apply? What degree nozzles to use? Put a hotter mix on the house, and you will damage plants, use a bit too much pressure, and force water where it is not supposed to go. Use turbo nozzle on your vinyl or concrete, and you could gouge the delicate vinyl or cream layer on concrete forever, damaging it. We have been pressure washing since the end of 2001. In those years, we learned what it takes to get it done right, from proper and carefully formulated chemicals to precisely dialed low pressure just high enough to clean what needs cleaned and not more. We use commercial equipment and carry liability insurance, which most fly-by-night handymen don't have.
We offer pressure washing in Brandon, MS, deck cleaning in Brandon, MS, and pressure wash driveway in Brandon and surrounding areas. We also clean and whiten gutters, remove stains from asphalt roofs and restore wood fences and patios. If you want to have your property professionally cleaned, give us a call or send us a message using the contact form on this page.